Italian cinema lands in Los Angeles thanks to Italian Screens with four screenings of three movies that were nominated for the David di Donatello 2022 and won major awards: Ariaferma by Leonardo di Costanzo, Freaks Out by Gabriele Mainetti, Qui rido io by Mario Martone.
Italian Screens is an initiative promoted by the Ministry of Foreign Affairs and International Cooperation (MAECI), Cinecittà for the Directorate General of Cinema and Audiovisual of the Ministry of Culture (DGCA-MiC) and Accademia del Cinema Italiano - Premi David di Donatello.
The film festival in Los Angeles is organized by ITTV Forum&Festival in collaboration with the Italian Cultural Institute and under the auspices of the Consulate General of Italy in Los Angeles.
Two different locations were chosen to offer screenings of the Italian titles to different audiences: West Hollywood's Soho House and USC - University of Southern California (Norris Cinema Theatre and Ray Stark Family Theatre). All screenings will be in original language with English subtitles. Entry is free but registrations are required.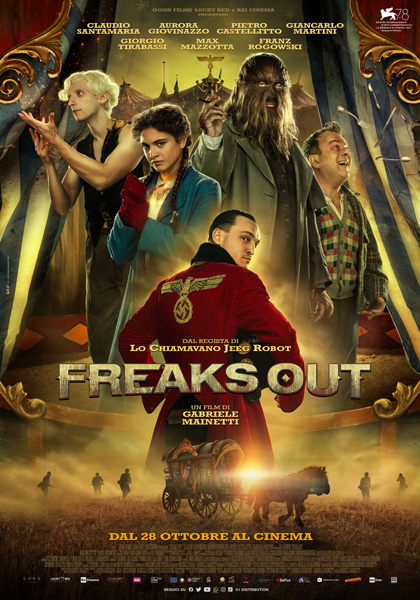 Freaks Out
by Gabriele Mainetti, starring Claudio Santamaria, Aurora Giovinazzo, Pietro Castellitto.
The movie takes place in Rome, in 1943: Matilde, Cencio, Fulvio and Mario live as siblings in Israel's circus. When Israel mysteriously disappears, the four "freaks" are left alone in the Nazi-occupied city. Someone, however, has a plan in store that could change their destinies... and the course of history.
Date & Time: Oct 31, 2022 | 7.00pm
Location: Norris Cinema Theatre at USC

Date & Time: Nov 1, 2022 | 7.00pm*
Location: Soho House West Hollywood, 9200 Sunset Blvd, West Hollywood, CA 90069
*SOLD OUT
Ariaferma (The Inner Cage)
by Leonardo di Costanzo, starring Toni Servillo and Silvio Orlando.
Ariaferma enacts, in an old nineteenth-century prison in disuse, the lives and stories of a dozen prisoners along with a few officers who were stranded, during transfers, due to bureaucratic problems. In a suspended atmosphere, the rules of separation loosen and new forms of relationships are glimpsed among the remaining men.
Date & Time: Nov 2, 2022 | 3.30pm*
Location: Soho House West Hollywood, 9200 Sunset Blvd, West Hollywood, CA 90069
*SOLD OUT
Qui Rido Io (The King of Laughter)
by Mario Martone, starring Toni Servillo, Maria Nazionale, Cristiana Dell'Anna, and Vincenzo Scarpetta.
The movie revolves around Eduardo Scarpetta, a successful playwright and actor who decides to perform a parody of Gabriele D'Annunzio's La figlia di Iorio. When he is sued for plagiarism by D'Annunzio, his life seems to fall apart.
Date & Time: Nov 2, 2022 | 7.00pm
Location: The Ray Stark Family Theatre at USC
ABOUT ITTV
ITTV, the Italian TV Forum&Festival is an annual event that takes place in Venice in September, and in Los Angeles from November 6th - 9th, to showcase the best in Italian audiovisual arts and entertainment, with the participation of prominent industry personalities. In the past few years, ITTV has evolved into more than just a festival - hosting panels, launching special events and creating professional opportunities for market players to meet and collaborate on individual projects. ITTV was created and is produced by Good Girls Planet Valentina, founded by CEO Valentina Martelli and Cristina Scognamillo.
About the Italian Cultural Institute (IIC) of Los Angeles
The Italian Cultural Institute of Los Angeles is an overseas office of the Ministry of Foreign Affairs and International Cooperation dedicated to the promotion of Italian culture in the United States. The main activities of the IIC include the organization and support of events, exhibitions and festivals, the development of academic exchange programs, and the promotion of the Italian language.
About Outside the Box [Office]
Outside the Box [Office] is a USC weekly event for the School of Cinematic Arts undergraduates highlighting world cinema, documentary and independent film titles. The series draws from around the globe to present movies that may challenge, inspire or simply entertain.